Guided via ferrata in the Dolomites
Paths that go accross the rocks always toward new horizons
The indicated prices are individual prices per person and includes the car transfer. 

Minimum 2 people and max 4 people per mountain guide.
Level
/pers.
3 - 4
/pers.
max 2
monday and friday
Little Cir · 2.592 m
A / B
(beginners)
€ 100
€ 150
tuesday and saturday
Tridentina · Pisciadù
B / C
€ 130
€ 170
wednesday
Cresta Ovest Marmolata · Westgrat Marmolada · 3.344 m
B / C
€ 190
€ 220
thursday
Sas Rigais / Oskar Schuster · 2.955 m
A / B
€ 150
€ 190
sunday
Les Cordes-Gardenaccia · 2.100 m
B / C
€ 120
€ 170
tuesday and friday
Mesule · Pössnecker Steig · 2.965 m
C / D
€ 160
€ 190
wednesday
Furcela de Saslonch
B / C
€ 130
€ 170
Other Via Ferratas:
Masaré 130 Euro, (Cableway not included in price) 
Trincee 130 Euro, (Cableway not included in price)        
Punta Anna 160 Euro, (Cableway not included in price)       
Finanzieri 160 Euro, (Cableway not included in price)        
Lipella 170 Euro,           
Maerins 160 Euro


On very difficult via ferrata like Piazzetta, and Mearins we will accompany only 2 people per mountain guide.
Special Via Ferrata package 2022
3 beautiful adventures - a unique experience

1) Small Cir / Piz da Lech
2) Tridentina / Pisciadù
3) Furcela de Saslonch  

€ 350
price per person - min. 2 participants
New Via Ferrata
Furcela de Saslonch

Grade B and C
Length of the via ferrata 500 m
Start–exit 200 m ascent
Duration about 2 hours

The first historic via ferrata in the Dolomites has been built in Val Gardena. Financed by the "Pößneck" section of the German Alpine Club and festively inaugurated in 1912, the bold via ferrata runs from the Sella Pass over the craggy rock face of the Piz Selva up to the Sella plateau. Today, the "Via Ferrata of the Meiusles" is considered one of the great classics and still a demanding undertaking climbing track in terms of its overall challenge.
Other via ferrata routes followed and expanded the range of options on the various mountain ranges around Val Gardena. In the meantime, more than a hundred years have passed and walking on steel ropes enjoys an inexorably increasing popularity. "I have met so many enthusiastic people on via ferratas that I must be in favour of them, within certain limits of course and if they are not underestimated," wrote Reinhold Messner back in 1974 in his book "Dolomiten-Klettersteige".
In autumn 2021, a modern via ferrata was set up in the Val Gardena Dolomites. The goal was not to reach the summit, but rather to make the path a fascinating experience. In the Sassolungo group, a rock structure was found that had not previously been of interest to alpinists and where small climbing routes already led. And since this hitherto unnoticed ridge is located directly next to the forcella Sassolungo, access from the nearby Toni Demetz Hut can be reached in about 15 minutes. If you want to do it without the cable car and reach the entrance by foot, the ascent from the Sella Pass takes about 45 minutes.
The via ferrata "Furcela de Saslonch" - which stands for "Forcella Sassolungo" in Ladin - has a climbing length of more than 500 metres, with varied climbing over ribbons and ramps, as well as some steep ascents, overcoming just under 200 metres in altitude. In the middle section, a secured emergency exit allows you to leave the climbing facility if necessary or if you are overtaxed. In the upper part, an exposed jagged ridge is climbed and the summit ridge is reached on an airy suspension bridge over a gap. In a few steps you descend to the Toni Demetz Hut. The magnificent rock scenery all around is impressive, surrounded by the steeply rising walls of the cinque dita summit and the Sassolungo massif.
The difficulties are quite continuous B tracks with some C passages.
Walking time is about 2 hours. Via ferrata equipment and helmet are required.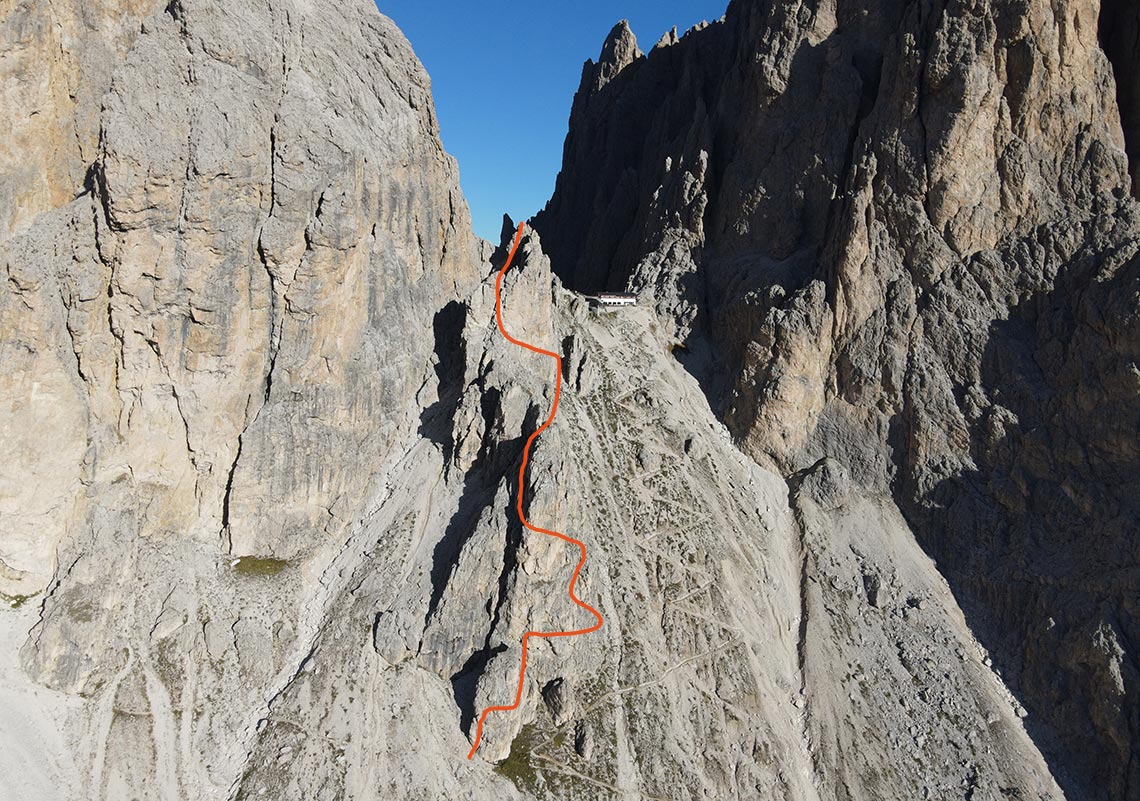 Via Ferrata week in the Dolomites
Period:  
03.06 – 09.07.2022
01.10 – 07.10.2022

Price:
1.170 Euro, Hotel Passo Sella,
960 Euro, Refuge

Included: 6 days in double rooms with half board, 5 Via Ferrata
Partecipants: 3-6

Via Ferratas in the Sella group, Odle, Rosengarten and area of Cortina